LitStack Review: A Conjuring of Light by V. E. Schwab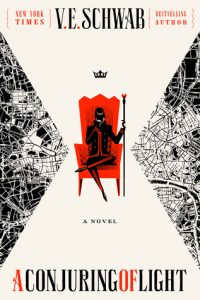 A Conjuring of Light
Shades of Magic, Book 3
V. E. Schwab
Tor Books
Release Date: February 21, 2017
ISBN 978-0-7653-8746-2
If you like magic, if you like epic fantasy, if you enjoy tales of magicians both light and dark, of brothers and kings, of thieves and pirates, then you really must be reading Victoria (V. E.) Schwab's Shades of Magic series, which has just concluded with the third volume, A Conjuring of Light.
All the books take place in four different Londons (none of which are the London of our "real" world), each with a varying degree of magic, each separate from the others except for the very few individuals who have the knowledge and ability to jump at will between them.
One such individual is Kell, a copper haired, noble young magician who hails from Red London, where magic is plentiful and vibrant. Kell is an Antari, a magician of great power, an ability that is extremely rare and occurs randomly, evidenced by one eye of the selected magician appearing as a solid black orb. Kell's parentage is unknown, and his early childhood is shrouded in mystery, but for years he has been attached to the Maresh Empire as a royal ambassador and as the adopted brother to Prince Rys Maresh. The two, of similar age while opposite in demeanor and looks, are extremely close.
Throughout the series we have become familiar with Rys' dashing, devil-may-care attitude as well as Kell's more careworn yet covertly rebellious sensibilities, and we have also gotten to know a myriad of other well developed characters: Lila Bard, a scrappy, vagabond thief from Grey London (where there is virtually no magic) who quite unexpectedly falls in with Kell during one of his trips "abroad"; Alucard Emery, the debonair captain of the pirate ship Night Spire, who rumor has it used to be an Arnesian royal; and Holland, an older Antari from White London, a cold, brutal world where magic has been honed as a weapon of the powerful.
These and other characters have come to vibrant life throughout the series, yet by the time we have gotten to A Conjuring of Light, we find they are unprepared for the threat emanating from an ancient evil, borne in Black London (the London of which no one even speaks) and rising in White London. Unsatisfied with the limited potential there, this malevolence finds its way to Red London, intent on claiming that land's boundless magic and thus imperiling the balance that exists between all the Londons.
It is, quite simply, a tour de force.
Author Victoria Schwab has built a pert'near perfect fantasy series, one that can be read and adored by genre fans but also appreciated by readers who look for complex characters and situations regardless of categorization. Without defaulting to mundane absurdities or convolution for the sake of appearing deep, Ms. Schwab gives us characters who begin as archetypes, but transform into knotty, intricate individuals with motivations that dig deeper than an expected panacea of revenge or honor. And it's a series that's not afraid to get dark, either.
None of Ms. Schwab's characters, Kell included, are without fault or blemish (and none of those who are evil are without some kind of understanding for their fall), and these textures remain even as the story moves forward. There is no miracle redemption, no gain without a loss that goes deeper than that which draws blood. Yes, the villains are despicable, the betrayals are gut-wrenching, the losses are devastating and the triumphs are uplifting. But none of them are rote, none of them are there for cheap thrills. They unfold coherently and judiciously – even when we don't want them to, even when we want something utterly sensational to happen, because we have become so vested in these characters, and we care about them and don't want to see them suffering, physically or emotionally.
The action in A Conjuring of Light picks up right where the second book, A Gathering of Shadows, left off, and since the assumption is that the reader already knows the players and the stage, it hits the ground running from page One – not surprising, since that second book had a cliffhanger for an ending. A reviewer could caution that A Conjuring of Light would be difficult if attempted as a standalone novel, but honestly, why would one even want to do that, since the entire series is utterly captivating?
But while the earlier books may have enjoyed time taken in building up characters and defining the different Londons (talk about world-building!), this third book is all action. The chapters are short and bundled into sections that are easily devoured; even the chapters themselves are often broken down into fragments. In less talented hands this splintering might feel scattered and messy, but Ms. Schwab instead uses it to give a sense of urgency and even a frenetic motion to the narrative; it also allows her to inject moments of introspection and character-shading into the drama without sacrificing momentum.
And you will indeed get caught up in it's thrilling momentum. A Conjuring of Light is truly a masterful ending for a superb fantasy series. And honestly, while the final pages of this book did indeed wind the story down to a satisfying, beautiful, and utterly complete ending, I can't but hope that this is not the last we see of these four Londons, and the characters who care so deeply for them.
~ Sharon Browning