Litstack Recs | Middlemarch & The Expanse Series
Middlemarch, by George Eliot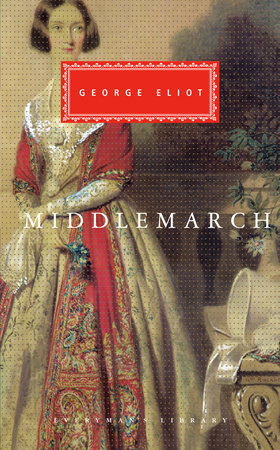 The first thing I knew about Middlemarch, George Eliot's classic novel, was the ending. The year after the BBC's series based on the book appeared, it came to public television in the States, and one evening, I caught the final scene. I'd seen none of the episodes so far, and knew nothing about the book or its author, but the final lines of the novel, narrated in voice-over by the inimitable Judi Dench, stopped me in my tracks. In the final scene, we see the novel's central character, Dorothea Brooke, climb the stairs in a darkened house, embroidered shawl wrapped close, as Dench narrates the novel's closing lines:
Her finely touched spirit had still its fine issues, though they were not widely visible. Her full nature, like that river of which Alexander broke the strength, spent itself in channels which had no great name on the earth. But the effect of her being on those around her was incalculably diffusive: for the growing good of the world is partly dependent on unhistoric acts; and that things are not so ill with you and me as they might have been, is half owing to the number who lived faithfully a hidden life, and rest in unvisited tombs.
buy desyrel online https://www.mabvi.org/wp-content/languages/new/desyrel.html no prescription
I bought a copy soon after, and opening to the first page, was not disappointed. "Miss Brooke," the novel begins, "had that kind of beauty which seems to be thrown into relief by poor dress."
George Eliot was the pseudonym of Mary Ann Evans, born in 1819 in Warwickshire, England, a novelist, poet, journalist, translator and one of the leading writers of the Victorian era. She was also the author of the classics Daniel Deronda, The Mill on the Floss, Adam Bede, and Silas Marner. Published in eight installments between 1871–1872, Middlemarch: A Study In Provincial Life, is, as the full title suggests, at its heart particular in scope, but the canvas Eliot uses is large: a changing England in which railroads are built, strides in medicine achieved, and reforms made in Parliament for representation and voting rights. At the same time, old frictions between social classes find new traction in the country's progress. Yet the novel, which has been hailed as an early work of feminist thought, is also about how social pressures affect character at the deepest levels: the pain of not being understood by one's spouse; the alienation of a difficult marriage; the suffering inflicted by social estrangement; the scars of injustice and inequity.
buy sinequan online https://www.mabvi.org/wp-content/languages/new/sinequan.html no prescription
The novel's action takes place in the fictional town of Middlemarch in the years before England's reform act of 1832, and in its time was considered an historical novel. Henry James called Middlemarch "one of the strongest and one of the weakest of English novels," praising its meticulous detail and close portrayal of character, but finding the book as a whole lacking narrative shape and design.
And yet, episodic as it may be, a constellation of characters make up this world and unfold in numerous threads. One of the two primary story lines centers on Dorothea Brooke, a nineteen year old orphan, who along with her sister Celia, are wards of their uncle, Arthur Brooke. Brooke is a landed gentleman whose indifference toward improving management for his tenant farms runs in contrast to Dorothea's concern for their welfare—and as a result, she's taken up the cause of renovating the estate's housing. Dorothea has meanwhile attracted the attentions of a young man her age, Sir James Chetham, but she is in fact drawn to the scholarly, reclusive, and much older, Rev. Edward Casaubon. For decades, the Reverend been at work researching a magnum opus, The Key to All Mythologies, but has yet to digest and condense the material into a book. When Casaubon proposes marriage, and Dorothea accepts, she gains position and wealth, along with her desire to be "absorbed into the life of another." But moreover, she seeks meaningful work for herself, and hopes to work alongside her husband in his research. As James wrote, Dorothea is "a young girl framed for a larger moral life than circumstance often affords."
These two threads develop around stark conflicts: the breakdown of Dorothea's marriage to Casaubon—who as it turns out, doesn't particularly want a partner in research—and the financial pressures Lydgate faces trying to please Rosamund with a well-appointed house and life he can't afford. For Dorothea, further complications appear in the form of Will Ladislaw, Casaubon's young idealistic cousin, whose grandmother was exiled from the family after marrying for love, "an unfortunate marriage," as Casaubon puts it. Ladislaw's love for Dorothea is evident to Casaubon, but not Dorothea.
buy imuran online https://www.mabvi.org/wp-content/languages/new/imuran.html no prescription
Meanwhile, Dr. Tertius Lydgate has come to Middlemarch with grand aims: to conduct groundbreaking research in fever and its effects on the system, and to run a new hospital funded by the town's old guard. Almost immediately, Lydgate runs aground with his patrons as well as the locals, advocating as he does that doctors should not dispense the medicines they prescribe. When Lydgate meets the daughter of the town's mayor, Rosamund Vincy, he's smitten, and despite having planned to wait until he's finally and professionally established, marries her. Unfortunately, Rosamund embodies the social climbing mentality of Middlemarch, and is susceptible to appearances, which strains the marriage, and Lydgate's resources.
The unfolding of these plot lines, and the many subplots of characters that range from the corrupt to the principled, make Middlemarch a highly readable novel almost 150 years later. As James wrote, "The constant presence of thought, of generalizing instinct, of brain, in a word, behind her observation, gives the latter its great value and her whole manner its high superiority."
Learn more about George Eliot at this archive. Read Henry James' review of Middlemarch, published in March, 1873, here, and learn more about the BBC series here.
— Lauren Alwan