LitStack Recs: Books About Actors and Film & Ancillary Justice
As the summer film season approaches, here are three books—a memoir, a novel, and a book-length interview—that offer a look behind the camera.
Spielberg, Truffaut and Me: An Actor's Diary, by Bob Balaban
Spielberg, Truffaut and Me: An Actor's Diary was published in 2002, and it's a fascinating look behind the curtain of how the legendary film, Close Encounters of the Third Kind, was made. Balaban's hunch at the time that Close Encounters was a singular project turned out to be right. In prose that is at once light, revealing, and earnest, Balaban (whose many film credits include Midnight Cowboy and Catch-22) recounts the making of the film—location shoots in Wyoming, Alabama, the Mojave Desert and India, as well as the studio sequences in Los Angeles. He faithfully records the daily reality: the boredom, the creativity, and on-the-spot inventiveness.
It's fascinating too, to read about the complexities of making a film of this magnitude. Close Encounters was made pre-CGI, and each special effect had to be constructed in analog. This included the alien ships designed by Bob Alves and his artistic team. The effects for the now-iconic clouds generated by the mothership were created by a mix of paint roiling in fresh and salt water, and the otherworldly atmospheric effects caused by their innumerable lights was the haze that resulted by filming the models through veils of smoke in a black velvet room.
There are no earth-shaking revelations in Spielberg, Truffaut and Me, but the account is filled with lovely detail of what it's like to make your living as an actor, and live a life that centers on making films.
Laura Lamont's Life in Pictures, by Emma Straub
Hollywood film famously enlarges personalities. It puts us in thrall of strangers and seduces us with glamour and shifting identities. That tension between art and life has been a longstanding fascination since Mary Pickford won over audiences in Tess of the Storm Country. Those captivated by Old Hollywood will surely love Emma Straub's novel, Laura Lamont's Life in Pictures (2012). The novel, Straub's first, portrays an era when the veil of glamour was not so easily pulled away, and is an appealing behind-the-curtain view of the transformation from mere mortal to iconic screen persona.
When we first meet Elsa Emerson, "the blondest, happiest accident,"she is a child in 1920s rural Wisconsin, contentedly traipsing behind her two elder sisters and the players who work in the family's summer playhouse in Door County. From the start, Elsa understands there is "power in pretend," and in those early thrilling encounters with the theater—the footlights, the scripts, costumes, and naturally, the applause. Following marriage at seventeen to one of the traveling actors, Gordon Pitts, Elsa and her new husband board a bus to Hollywood. There, Gordon is signed on as a studio player, playing bit parts for a weekly salary. Soon, at a party, Elsa is spotted by a studio head, Irving Green, and in classic A Star is Born manner, Elsa is discovered, and she and Gordon are set on opposite trajectories.
The novel, Straub has said, was inspired after reading the obituary of Jennifer Jones, the legendary film actress who died in 2009. Like Lamont, Jones came to Hollywood from the Midwest, married a fellow actor at a young age, won an Oscar early on, and became the wife of a studio executive. Straub's re-imagining of Hollywood (from 1938 to 1980) combines invention with factual detail. Yet for much of the novel, Laura remains at an emotional remove. For Laura, the twinned identities of Elsa Emerson and Laura Lamont are competing and often ambiguous, an influence perhaps of Jones' tragic emotional instability. The back lots, the opulent houses, and the episodes of a glamorous life are a perfect distraction, an alluring novel to put in your beach bag.
A Definitive study of Alfred Hitchcock, by Francois Truffaut (trans. by Helen Scott)
Before he began directing, Francois Truffaut was a film critic, and before that, a voracious viewer of films. The director's habit of movie-going reportedly began at the age of eleven, and coincided with his habit of skipping school. It wasn't long before film became an obsession—seeing films, reading about films, logging filmographies. Most days, Truffaut saw between three and four films per day—and his favorites as many as twenty times. This immersion into the art of film was Truffaut's education, one he brilliantly parlayed into work as a journalist, writing reviews and covering film festivals for the esteemed publication Cahiers du Cinema, and led to auteur theory and the formation of the French New Wave.
One of the first American directors Truffaut encountered was Alfred Hitchcock. At the time, Hitchcock wasn't garnering the rave reviews he would for films like Strangers on a Train or Rear Window, but Truffaut was immediately captivated, recognizing in the English director's work the qualities he loved most about film: the nod to film noir, the auteur's view, the references to film inherent in Hitchcock's technique. By the mid-sixties, Truffaut had achieved fame with his now-classic film, The 400 Blows, which won the Cannes Film Festival Award for Best Director. Soon after, Truffaut approached Hitchcock, who happened to be an admirer, and a series of interviews took place in the fall of 1962 at Hitchcock's office at Universal Studios. With Truffaut's longtime colleague Helen Scott serving as translator, the dialogues were recorded, and filled as many as fifty tapes, though the number that survive is said to be twenty-six.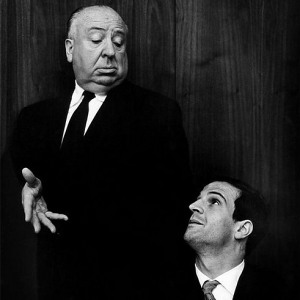 The conversations were published in what is now considered a "bible of film literature" known informally as Hitchcock/Truffaut. What makes this effort so unique are the contrasts between two very different directors—the maverick young artist and the eccentric elder auteur—yet both clearly had an immediate rapport and admiration for each others' work. In a 1999 review of the book's reissue, The Boston Globe noted that Truffaut was "well aware his greatness was of a lesser magnitude, and one of his book's many charms is the deference, unto worshipfulness, author displays toward subject."
More than forty years later, the book is still in print. Truffaut's longtime American colleague, Helen Scott, translated the conversations, while Truffaut chose the book's layout, its design, and painstakingly selected the accompanying film stills. A portion of the interview is online, twelve hours' worth of recordings via The Hitchcock Zone, here. A clip of Truffaut's salute to Hitchcock at his 1979 AFI Life Achievement Award is here.
—Lauren Alwan
Save
Save
Save