From Shelf Awareness: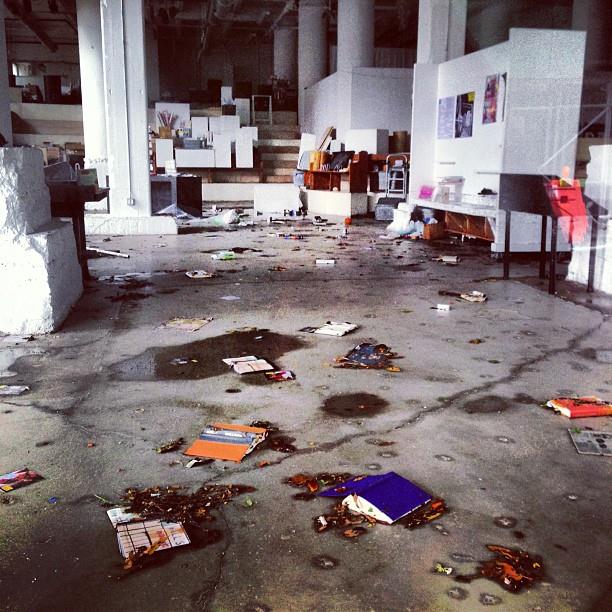 Booksellers impacted by Sandy took to social media as the hurricane made its approached towards the East Coast.
According to Shelf Awareness, people shared news updates, as well as storm-themed reading choices under the hashtag #sandyreads.
In Brooklyn, many bookstores were open and tweeting, including WORD ("Not only are we open and ready for business, we've got treats!)," BookCourt ("we are open"), Greenlight Bookstore ("Our phones are down but the bookstore is open! Don't try to call, just come visit.)" and Community Bookstore ("Did you exhaust your unread book pile during the #sandy house-arrest? We can help with that."). On Facebook, Boulevard Books & Café suggested: "If you live in Dyker Heights, chances are you still have no power… it's the perfect day at the bookstore."
Unfortunately, powerHouse Books in the flooded DUMBO section of Brooklyn took a hard hit, with CEO Daniel Power tweeting: "Store got whacked. 28 inches…. We planned for some water seeping in, but not 28″."
In Manhattan, McNally Jackson Booksellers offered reassuring words on Twitter: "We're okay! No power, but also no water. We'll be slinging books again in no time." Housing Works Books was still assessing the situation, tweeting: "CLOSED today; our Internetz will be pretty quiet. No word yet on how the store fared–if you're nearby, SAFELY take a peek & let me know?" A later update offered good news: "Just got word that the bookstore is power-less but no damage! We'll be closed tomorrow, but that's great news. Thanks everyone, stay safe." The Strand Bookstore said that "as of right now, the store remains closed. Hopefully we'll be back up and running (with power) soon!"
Clinton Book Shop, Clinton, N.J., "will be open tomorrow, power or no power. We miss our community and want to say hi to everyone."
Because Pleasantville, N.Y., was still under "an official state of emergency: no one but officials permitted on the streets," the Village Bookstore chose not open yesterday. Titcomb's Bookshop, East Sandwich, Mass., also opted to wait a day "to allow for clean-up from the storm. Hope everyone is safe from the storm. See you tomorrow!!!" R.J. Julia Booksellers, Madison, Conn., an area that saw substantial damage from Sandy, remained closed as well, noting: "If we are able to open tomorrow we will. Please stay safe during this recovery & clean up time." In a later post, the bookstore said: "We will be open from 11 a.m. to 3 p.m. tomorrow. We may not have power, but we have great books and friendly faces!"
Another Connecticut bookseller, Bank Square Books in Mystic, reported: "Floor of the bookstore is soaking wet. Books are ok. Must have been 3 to 5 inches in store with the high tide. Not sure of the next step. We did laugh at the craziness and mess of downtown however. It's a mess!" The Mystic River Press noted that it was "all hands on deck" to move books after co-owner Annie Philbrick appealed for help on the store's Facebook page.
Vermont's Bartleby's Books, which was wrecked by Hurricane Irene last year, posted: "So happy to see no flooding in town that we forgot to post that village is ok. Store is open and the sun is shining (at least some of the time)."
In Delaware, the Book End Cafe wrote: "We weren't able to spend any time at the store today because the town of Fenwick Island is still closed (until noon on Wednesday). We won't be open on Wednesday, but hope to open soon. We'll keep you posted!"
Though indie bookstores may be located from coast to coast, the bookselling community is, in  many ways, a small family. This Facebook post from Green Apple Books & Music, San Francisco, Calif., was typical of nationwide concern: "Thinking good thoughts for all our N.Y. area friends, and hoping all the books and booksellers over there are safe and dry."