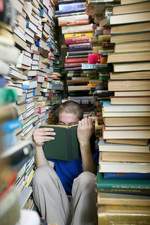 There are two conventions prevalent at the turn of the New Year of which I am highly skeptical:  "Best Of" end-of-the-year lists and New Year's resolutions.  "Best Of" end-of-the-year lists because how can anyone say that their highly subjective and often dubious rankings of all the books that have been issued over the last year can be deemed "the best", and New Year's resolutions because there is no consequence for failure and therefore they tend to fail.
However, I will admit to nevertheless being enticed into plunging in to both every year.  Hey, what can I say?  I have very little willpower, in the end.
At least I do have a caveat or two.  For instance, when it comes to end of the year lists, I do not indulge in "Best Of" lists anymore; I feel they are egotistical or, when promoted by for-profit sites, somewhat suspect.  What I will do, however, is look over all the books I've read in the last year, and pick out a handful that I would recommend most heartily to a friend.  They are not necessarily the "best" books, nor can I honestly say that all of them would be considered my personal favorites.  But they are books that, in some way or another, truly impressed me with either a strong story line, compelling characters, or presenting the world (or their world) in a unique and exciting way.
So, after perusing the list of almost 100 books that I reviewed for LitStack last year, here are fifteen titles – in no particular order – that I could easily and enthusiastically recommend to anyone looking for a good time (reading, that is).  (I tried to limit my list to only ten items, but it simply could not be done… getting it down to fifteen alone almost brought me to tears.)
City of Stairs by Robert Jackson Bennett – interesting take on the affect of killing off gods, wrapped up with mystery and monsters with an wonderful Eastern European vibe
Persona by Genevieve Valentine – imagine a world where public relations has officially overtaken politics and you have a fascinating environment within which to spin a chilling and fast paced near-future thriller
The Galaxy Game by Karen Lord – in a multi-planetary environment where protocol is paramount, one exclusive sport holds the key to intrigue; the characters in this book take the "buddy" trope to a whole new dimension
The Dead Lands by Benjamin Percy – a post-apocalyptic frontier tale that doesn't moralize about climate change, but terrifies nonetheless, simply by showing what the future might hold (and the creatures to be found in it, human and animal alike)
Europe in Autumn by Dave Hutchinson – a fascinating "what if" book where Europe is fractured into multiple (and sometimes miniscule) single-faction countries, and a central character that is so normal you ache for him as he is pressed into undercover espionage
Nemesis Games by James S. A. Corey – the fifth book of the exceptional "The Expanse" series gets personal again, when the crew of the Rocinante find themselves pawns in a new political game that has been years in the making
The Water Knife by Paolo Bacigalupe – the American Southwest has turned into a dust bowl, and water rights are the new commodity to be wielded by power hungry corporate conglomerates; this is a gritty social future fiction written by the master
Dark Orbit by Carolyn Ives Gilman – space exploration is always dangerous, but rarely so intriguingly realized than in this story where nothing can be taken for granted; this book contains one of the best treatments of the affects of total darkness that I've ever read
The Red/The Trials (/Going Dark) by Linda Nagata – most excellent trilogy of military science fiction novels where future events spark the emergence of the Red, a nebulous, Cloud-based network that manipulates technology in a global game of chess to an unknown end; these feel absolutely genuine
Linesman by S. K. Dunstall – interstellar political intrigue aboard spaceships; this book is made special by a main character that is almost naive in the power he holds (possibly autistic?), and is one of the most compelling main characters I have read in years
The Martian by Andy Weir – exceptional science fiction, full of exception science, about a NASA astronaut stranded on Mars, and his efforts to stay alive in hopes of a rescue (the movie is good – the book is better, and just as entertaining)
Ancillary Mercy by Ann Leckie – final book in the groundbreaking "Imperial Radch" trilogy, as the sole survivor/consciousness of a destroyed warship sees the culmination of her efforts to bring stability to her universe while exacting revenge on the ruler who threatens to destroy all
Empire Ascendant by Kameron Hurley – second book in the "Worldbreaker" series, a gritty, feudal epic fantasy spanning multiple layers as an alternate dimension attempts to conquer their parallel existence in a frantic attempt to outrun their own annihilation (I'm sorry, I guess I haven't reviewed this one yet!)
Luna:  New Moon by Ian McDonald – the moon as you've never thought of it before; an extremely well realized take on colonization and industrialization that stomps on fantasy and builds a story around powerful families and their attempts at wresting control, regardless of who gets hurt along the way
 Aurora by Kim Stanley Robinson – "hard" science fiction at its best, when generations of planning and effort fail, for reasons that could not even be anticipated; an unsentimental and yet incredibly hope-filled look at what looms in our own future
There you go – take 'em or leave 'em.  But I sure hope you'll take 'em, as each of these books is wonderful and incredibly entertaining, and totally worthy of as large an audience as they can get.  Cross my heart.
As to those pesky New Year's resolutions?  I didn't make any.  Truly.
However, I did try to take a step back and look at last year with an eye to identifying behaviors or habits that I'd like to shed, using the prompt of a "new year" as a jumping off point.  Along with the typical and, let's face it, utterly futile admonishments to eat better, exercise more, be more kind and go through all that stuff on the bottom ledge of the bookshelf next to the gaming computer (okay, so maybe that last one is awfully specific, but it's something I have every intention of undertaking every year, and yet every year the days pass and all "that stuff" down there merely gets dustier), I realized that I've checked a helluva lot of books out of the library that I ended up not reading, due to time constraints and, well, just deciding that I'm not that interested in them, after all.  Most of these errant volumes came from "shoulds" and "musts":  books I must read by certain socially-striated batch of authors, books I should read by the time I read 30 (okay, so that's a bit late – but you're only as old as you feel, right?), the most highly anticipated books of the month/year, the must read books that were released/are being released this month/year, the books that should not be missed, books that everyone is talking about, books on bestseller lists, etc, etc, etc.
In 2015, these books, along with books shortlisted for various literary awards, became obligations for me.  I felt like it was my duty to read them, and review them.  That I owed you, the LitStack readers, insight in to the most popular, the most buzzed about, the most lauded books emerging from various pipelines throughout the year.
And it was making me miserable.
I don't even want to count the number of "must" and "should" and "don't miss" and "best-selling" books that I checked out of the library, started to read, then put aside, simply because by the time I brought them home, they no longer interested me.  Or else they didn't even interest me at the onset, but I figured that they must be good to deserve their best-seller/honored status.  Or else – and this didn't happen all that often, but often enough – I started to read a hyped up book that I was excited about, and found it to be lacking of any quality that would keep me reading (and I refuse to write a review simply to trash a book).  So many books this year either disappointed me, or I was disappointed in myself for not following through with them.
And life's too short for that.
So this year, while I'm not going to say "I resolve to only read books that truly interest me, and not ones that I 'should' read for whatever reason", I am going to strive to continually throughout the year give myself permission to indulge my own personal reading preferences.  And sure, I'll share them all with you guys, because a good book is a good book is a good book, and should be shared.  Right?
At least, on this first week of the new year, that's my story and I'm sticking to it.
At least, for now.  As always, time will tell.