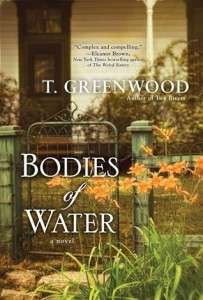 Bodies of Water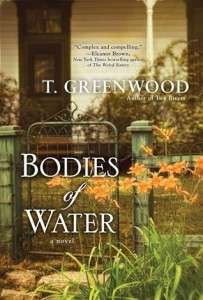 T. Greenwood
Kensington Books
Publication Date: September 24, 2013
ISBN 978-0-7582-5093-3
In an interview with the San Diego Reader, author Tammy Greenwood talked about getting caught by Hurricane Irene while visiting her family in Massachusetts in August 2011.  "We were totally stranded. I couldn't drive through the crazy weather. We ended up getting stuck with time to kill and stories to tell. I have a lot of great storytellers in my family."  Hunkered down, waiting out the storm, she heard the germ of a story that was to become her eighth novel, Bodies of Water.  "I heard a family story that I had never heard before," she says. "Bodies of Water was inspired by that. It quickly became very fictional–it's not a true story–but the spark behind it was this story that a family member shared with me during hurricane Irene."
Octogenarian Billie Valentine doesn't mind living a somewhat solitary life in a small beach town on the California coast, far removed from the familial stomping grounds in New England.  All of her loved ones – husband, partner, children – have either died or moved on.  She has accepted and even embraced her solitude, keeping in touch with her sister Gussy by phone, aptly comfortable with the long distance between herself and her past.
Then one day, during a routine phone conversation with her sister, submerged memories are suddenly and violently dredged up.  The son of one of Billie's dearest friends, gone for decades, has written Gussy a letter wondering if she knows of how to get in touch with Billie.  "He says he wants to talk to you about his mother.  But he wants to see you in person.  He wants to know if I can help him find you."
Gussy proposes that Billie make a trip out to the old homestead at Lake Gormlaith, in Vermont.  Not just to meet with Johnny Wilson in Boston, but to spend time with her and her kids and grandkids, even perhaps spend time with Billie's own casually estranged daughter in the area.  Gussy is persuasive, insistent, even.  She makes the plans, she buys the airline tickets, she wheedles and cajoles and assuages Billie's hesitations.  Eventually, resistantly, curmudgeon Billie gives in and leaves her safe haven to travel back to the place that has witnessed her deepest love and greatest heartbreak, where in the 1960s a new family moved in to the vacant house across the street, and Billie and Eva Wilson became friends.
This is what I know:  memory is the same as water.  It permeates and saturates.  Quenches and satiates.  It can hold you up or pull you under; render you weightless or drown you.  It is tangible, but elusive.  My memories of Eva are like this:  the watery dreams of a past I can no more easily grasp than a fistful of the ocean.  Some days, they buoy me.  Other days, they threaten me with their dangerous draw.  Memory.  Water.  Our bodies are made of it; it is what we are.  I can no longer separate myself from my recollections, on the best days, on the worst days, I believe I have dissolved into them.
At its heart, Bodies of Water is a love story; of a forbidden love that could only be glimpsed in stolen moments and realized in tentatively sequestered circumstances.  A dangerous love between two women living staunchly traditional lives, both with controlling, alcoholic, abusive husbands that were nevertheless considered good men.  But the love that blossomed between Billie and Eva was not an escape, it was the dream of fulfillment – and ultimately a tragedy that tore two families apart.
Powerfully written, haunting and lyrical, Bodies of Water is best when it gives us an unflinching look a time in history that is still mostly painted with idyllic hues, when the fledgling pushback of women against patriarchal values was only just beginning.  Women were living lives they were told they were lucky to have:  a dream realized, and yet so empty.  Caught between a fierce love of family with its nightly dinners to have at the ready, the skinned knees to kiss and bandage, the houses to clean, the shirts to iron and holiday costumes to stitch together; and the ache of a utilitarian future devoid of any personal fulfillment, the depiction of the friendship between Billie and Eva being a godsend for both feels so real.  What starts as a shared bastion against the aloof, the abusive, the dismissive aspects of their lives so easily develops into an intimacy – emotional and sensual – that fulfills a deep need in both women, and this is not only believable, but commendable to our modern sensibilities.
Unfortunately, Bodies of Water stumbles some in its execution.  The alternating story paths between modern day Billie and 1960s Billie would have been much stronger had there not been so many "if only I had known", or similar dramatic cliffhanger moments bridging the two.  Then there were the times when the mundane tasks of travel were injected with endearing characters and experiences; affecting at first but occurring so often that they became coincidental and contrived.  In the same vein, there were oh, so many precious scenes – too many.  Even though each one had a nice focus, because there were so many of them, they eventually lost their overall potency.   And towards the end of the book, when the narrative switched mainly to the present day, the action slows: is it really necessary to tell us that on the drive to Boston, Gussy and Billie put their coffee in the cup holders in the car, and later that Billie takes her coffee cup out of the cup holder, drinks some, then replaces the cup in the cup holder?  We as readers know something important is going to happen, we feel that urgency, and chafe at the literary foot-dragging that delays the inevitable.  From the outside looking in, we just want them to get there already.
But what I had the hardest time reconciling is how often these level headed, completely grounded, family focused, traditional women not only flirted with disaster – fresh, new love, after all – but put themselves (or at least Eva) in actual physical danger merely for a moment of fleeting gratification.  There were too many "I knew it was wrong, but…" and "We knew it was dangerous, but…" moments, making small tears in our sympathy for Billie and Eva, small tears that didn't need to be there, that shouldn't have been there.  In so many ways, there should have been just a smidgen more restraint in many places in the narrative, in order to keep us vested in the story, in the characters, in the outcome.
Still, Billie and Eva's story is one that we need to hear, and one that for all the lack of restraint, does not force a lifestyle or draw on stereotypes; nor does it preach or instruct.  It allows us to see on the other side of the drawn curtains, glimpsing the lives that do not fit the mold of what we have been told were the simpler, easier, better times, to see the lies in those perceptions.  T. Greenwood's writing does evoke an earlier, less complicated time sans judgment, and her writing can be quite beautiful and powerful, equal parts lush and raw.  And this story of Billie and Eva feels so very true.  I can easily see where it could have been first been related in the midst of a storm, with a setting of a family digging in and holding on during a bombardment of wind and rain.  That spilling of family secrets seems very apt to Bodies of Water – and perhaps the tiniest glimpse of a silver lining, even in a storm of hurricane proportions.